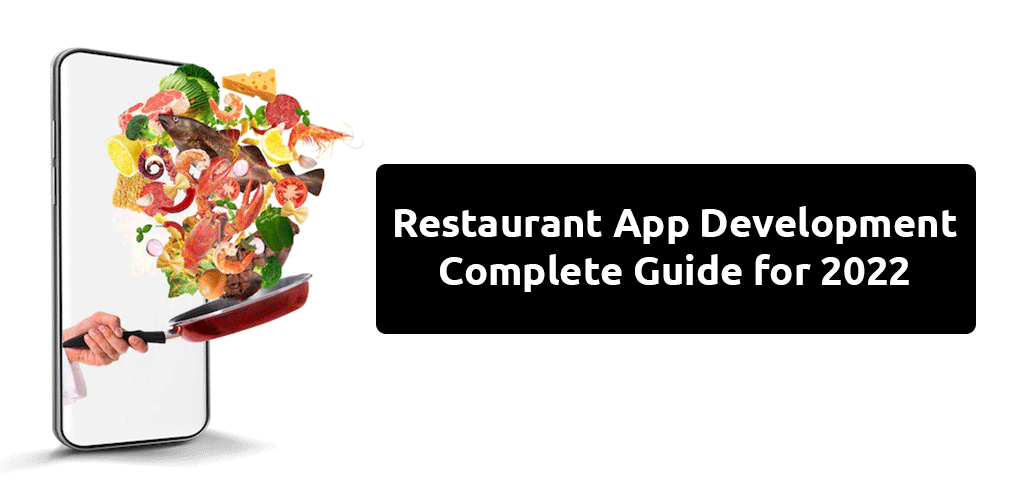 11-10-2022
Technology has changed the world and has been continuously changing and transforming every industry. And it has been delivering unpredictable growth in these industries by adding ease, quality, and cost-efficiency. It has mostly benefitted the food industry through the shift from cooking at home to getting home delivery of meals.
Today getting services like food, beverage, clothing, medicine, grocery, and many other necessities is just a click away. Young people who live alone for study or work are increasingly getting dependent on online food delivery due to their hectic lives and this has resulted in the sudden rise of this industry. This clearly shows the importance of restaurant mobile app development in the market. Let's take a deeper look at the steps needed to develop a robust restaurant app.
Why do you need to develop a restaurant app?
Restaurant app development is important for restaurants as it provides a seamless expansion to the business and can cater to customers who can't come for dining in the restaurant at odd business hours. With the advent of digitization, restaurant app development has become important to match the changing scenarios.
If we look at the market trends, the online food delivery market is about to reach $29,000 million in the coming year. Nowadays, almost every independent adult in India owns a smartphone and prefers to order food online or reserve a table via a restaurant app. Because of this demand to develop mobile application for restaurant has surged and this makes it easy to reach consumers and improve brand recognition.
Mention below are a few reasons stating why you need to develop a mobile application for restaurant:
Brand Promotion: The food industry is opting for restaurant app development and one of its major reason is that it comes with a better prospect for a restaurant's visibility. This enhances the brand value of the restaurant. A restaurant's online ordering app increases marketing sales and customer engagement.
Increase in booking: Restaurant app development has made it easy to find a nearby restaurant and reserve a table. This helps restaurants receive more bookings in comparison to before. Most restaurant apps offer loyalty points to their customers that make the customers happy. It is basically like a reward system in which the restaurant offers its customers benefits in the form of coupons, discounts, treats, and other things. Also, the referral or the refer-a-friend system increases the customer count for the restaurant.
Customer feedback: Customer feedback is very crucial for the growth of any business. Restaurant app development makes it easy for the restaurant owner to take customer feedback and improve accordingly. Not only improvement but the reviews also increase the customer base and attach other customers to your restaurant. Thus, customer feedback is a major reason why restaurants should build restaurant apps.

Features of a Restaurant App:
Listed below are some of the features that your restaurant mobile app must have:
Food Menu: This is a must to have feature in your restaurant app where you can include different food items, beverages, drinks, desserts, and other food-related items along with their cost. In addition to this, you can also include sub-categories of the dishes.
Online Order: Even since the pandemic, online food ordering has become a preferred choice for most customers. This makes it the most important feature of a restaurant app. It also helps the customers to interact with the restaurant easily and use its services.
Payment Procedure: For its successful and long-term working your restaurant app needs a safe and secure medium of payment. You can provide multiple payment options like cash on delivery or online payment.
Menu customization: Every customer has different tastes and preferences for dishes. This means they are looking for an option where they can create a list of their preferences. For instance, meal without onion and garlic.
Online booking: Often it is seen that restaurants don't provide the option of online booking of a table. This may risk your profit, hence it is important to make this option available for your customers on your restaurant app. You can also add some pictures of your restaurant showing the arrangement of the tables which will make it easy for them to choose their preferred table.
Apart from all these, there are many important features of a restaurant app such as notification pop-ups and geo-location. You should notify your customer whether it's food item delivery, pick-up order, booking of tables, or other offers like deals and schemes. Geo-location is another important feature of a restaurant app. It helps your customers track their delivery.

Types of Restaurant apps
If you have decided to add an app to your online food business platform, you need to understand the types of restaurant apps. As users, we feel all apps are the same, but each application is designed keeping in mind different perspectives. Some major types of restaurant apps are mentioned herewith:
Find your restaurant: If you merely want to offer the location of nearby restaurants within a certain geographical area, then a restaurant locator app is what you need to develop.
Online order app: This type of app allows users to find a nearby restaurant, access its menu, place order, pay bills, and track their order.
Loyalty program app: This application is primarily developed to share details of ongoing and upcoming food deals.
On-table order: This app facilitates customers with a system of ordering and paying bills from the restaurant table without any personal interaction with the restaurant staff.

Challenges you might face in restaurant app development
In every application development program, some hindrances block the road to success. Some of the challenges are mentioned herewith:
Competitor Landscape: The number of food apps in the market are increasing by the minute. The biggest challenge is to create your own identity among all as you assess the competitor landscape.
Technology upgrade: Technology is changing every day, to ensure that your app and website stay at the top of the charts they need to be constantly upgraded. Keeping this in mind the development team should design the app to facilitate the upgrade to the latest API as and when available.
Monetary consideration: Another challenge that you can face is the monetary investment under the planned limits. In the development process, the team might overshoot the planned budget.
Facing all the challenges successfully and developing a robust app demands a strong technology stack backing it. You need well-strategized technical inputs for developing a successful restaurant app.

Factors you need to consider before developing a restaurant app
This restaurant app development guide wouldn't be complete without considering some critical factors. The design of the restaurant app will depend on the complexity of the app which will define how vigorous it will be.
These factors give an overview to the owner that how large-scale the app must be to fulfill the aim of developing the software. A list of such factors is mentioned hereunder:
Bandwidth and Load Testing: While testing for bugs, it is crucial to check the app's capability to handle heavy loads and working in low bandwidth, which may lead to app crashes. In every possible situation the app must remain operational.
Budget and Future Planning: It is the most basic requirement. While working on the app new ideas may keep popping into your mind but this might affect the budget. In such situations, smart work should be done by fitting basic design and new components together within the budget.
Competitor profiling: For a successful app a thoughtful study will form a nucleus around which the app will develop. For this detailed profiling of the competitors in the market should be made.
Cost of developing a restaurant app
This is the most crucial part of app development. The cost of building a restaurant app depends on several factors including app complexity, technology stack, features/functionalities of the app, UI/UX design for the app, and payment integration, etc. These factors among other things form the charges that a mobile app development company asks you to pay.
If you want to develop a successful restaurant app for your online food business at an economical cost, Kamtech can help you design your dream app. We are working in this field for the last decade and have experts that will make an effective app for your business. The base price of developing a restaurant app with Kamtech starts from 4000 USD and further depends on the requirements of the customer.
While it might seem that Restaurant app development is demanding great investment in its early phase but it is surely a profitable step in the long term. Kamtech is an experienced IT company that will help you design a top-notch restaurant app from scratch which will further help you grow your business online.
Reach out to us for a no-obligation demo of our products and services.