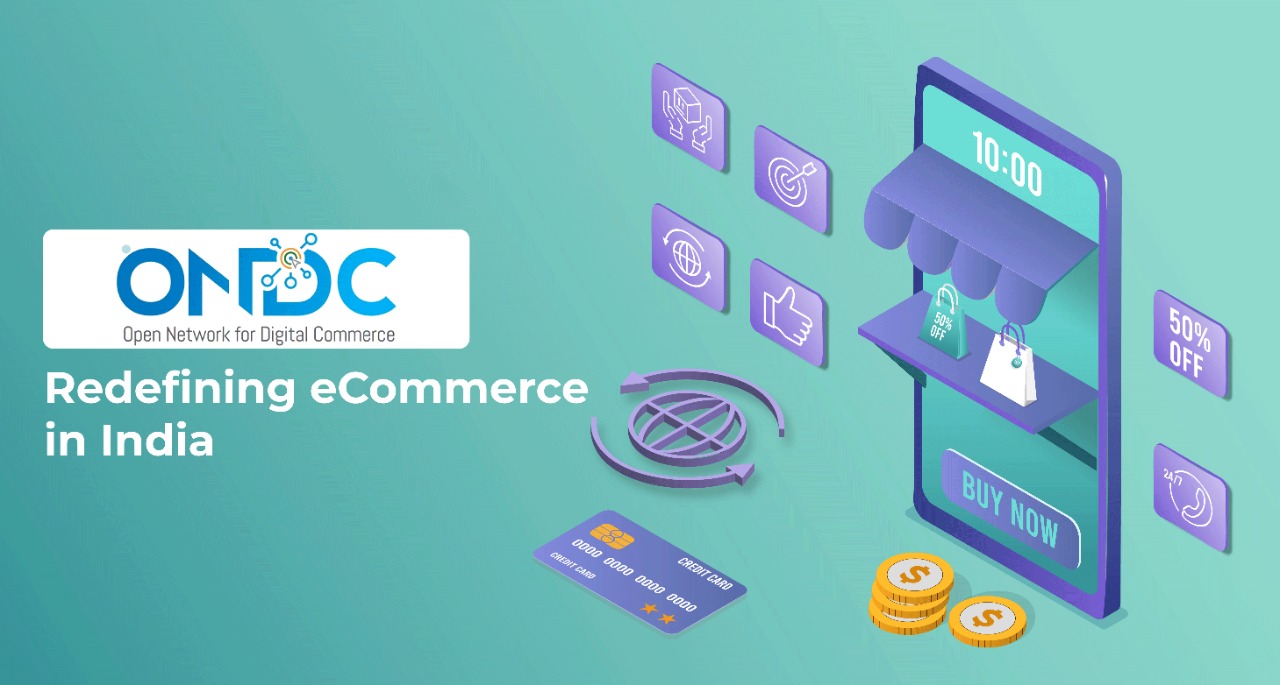 08-10-2022
Digital Commerce and the changing Indian scene
Newer avenues for expansion have opened up for businesses across the globe with the growing quantum of transactions made online. Advancements in technology coupled with the comfort and convenience it brings in the extremely busy life of millenials has fueled the growth of digital commerce. eCommerce in India has seen a compounded annual growth of 21.5% and is expected to reach $350 billion by the year 2030.
From tangible products to services, several businesses have made it to the big game while some budding entrepreneurs have made a good fortune from their innovative ideas. Yet, as the number of mobile and internet users continues to rise in India, an untapped market and its innumerable needs remain to be catered to.
It is because of this reason that private players, non-profit organizations and government institutions are working to further integrate and revolutionize the sector. ONDC is a revolutionary step taken by the Department for Promotion of Industry and Internal Trade of the Government of India in collaboration with several private organizations. It aims to create an open and more inclusive space for sellers and buyers to interact and make transactions more swiftly in the digital space.
Why is the current digital commerce structure not enough?
Before turning to what the proposed structure under ONDC looks like, it is significant for us to underline the drawbacks of the present digital commerce system. The present scene for eCommerce in India resembles an offline shopping mall. Sellers are provided with a space to sell their products at a virtual marketplace called a platform operated by big tech firms.
Buyers visiting that virtual mall will have access only to the sellers listed on that platform. As a result, digital commerce can expand only when the quantum of sellers and buyers increases over these platforms. Moreover, this would mandate sellers to be present on more platforms translating into higher product costs for driving probable sales and revenue.
On the other hand, management of inventories and shipping combined with offline store operations will make the business processes even more cumbersome. Online platforms turn into 'operators', leaving small and medium-scale businesses with not much liberty to participate in the commerce at their own will or terms. These platforms charge commission rates as high as 23-28 per cent on each cart value.
The platforms may exercise monopoly employing their discretion to decide which product sells. Additionally, the rigidity of this structure binds sellers to a particular system. The sellers thus find it difficult to port their earned popularity to different platforms. A similar agony is felt by the buyers because of this digital commerce mechanism. The buyer can only access the products of the sellers listed on a platform she/he is registered on. This problem is similar to that of 'Double coincidence of wants' which existed in the barter exchange. This 'Double Coincidence' makes it difficult for buyers to exercise their freedom of choice in product selection.
Simultaneously, because the platforms of these big tech 'operate' and 'control' the transaction between the buyers and sellers, the latter mostly have to conform to their practices. Refunds and return policies have become coercive.
eCommerce in India thus has serious issues which only a transformative approach can resolve. Scaling what seems to work is not what is needed instead adopting what works at scale is required. And ONDC for eCommerce brings this much-needed paradigmatic change from a platform-centric operator-driven rigid approach to a facilitator-driven decentralized approach.
ONDC: What's in it for all of us?
After the massive success of UPI (Unified Payments Interface) for a unified payment solution, and other global protocols such as the SMTP (Simple Mail Transfer Protocol) for emails and the HTTP (Hypertext Transfer Protocol) for the World Wide Web (WWW), the idea of an Open Network for Digital Commerce has been conceived.
It is an open order book with requests for purchasing a particular product demanded by a buyer taken up by sellers present on any platform. ONDC aims to allow disparate entities to interact with one another and provide their designated services including services such as inventory management, and logistics. At the moment ONDC will be a free-to-use service however, plans are to impose a commission capped at 5% in later stages. ONDC will be officially rolled out after its beta launch in five cities - Bangalore, Bhopal, Coimbatore, Delhi and Shillong.
Features
Just like a Gmail user can send a mail to a Yahoo user even when the former just uses Gmail because of the SMT protocol, Open Network for Digital Commerce aims to decentralize the network of buyers and sellers through its open protocol.
This requires 'Unbundling' of eCommerce in India. This refers to breaking the complex mechanism of eCommerce into granular activities which could be then performed by separate entities. These unbundled activities include packaging, logistics, accounting and customer support.
An Open protocol then allows a mix-match of these unbundled activities in a deeply interconnected network of buyers and sellers and service providers. ONDC for eCommerce then becomes a market principle rather than a tech feature which promotes discoverability and interoperability.
The flexibility with which each node is connected facilitates the adoption of technology stacks and tools namely artificial intelligence, machine learning, blockchain, etc.
ONDC enables the promotion of hyperlocal commerce beneficial particularly for Kirana stores depending upon the location of the buyer.
Open Network for Digital Commerce can later be extended to other commercial domains such as wholesale, food delivery, travel, and urban services. This can further provide B2B and B2C solutions.
The Way Ahead: what are the big plans?
The complete formalization of the ecosystem that ONDC plans to develop will take some time. In the coming five years, ONDC aims to create 730 crore additional annual purchases, connect 12 lakh sellers and neighborhood businesses with 90 crore digital shoppers through the internet, and produce around Rs. 3.75 Lakh Crore Additional Gross Merchandising Value.
Once the entire mechanism is in place and implemented efficiently, it will transform the entire eCommerce landscape in India. It will herald a time for fair and open competition with almost no constraints. Participants in digital commerce will ultimately profit from better connectivity. This will lead to a greater influx of digital users necessary for a higher contribution to the global economic pie.
The network has onboarded several agencies providing it with different technical support such as PayTM mall and PhonePe on the buyer side, Zoho and Snapdeal on the seller side and logistics provided by Dunzo, Loadshare and Grab. ONDC is planned to be completely rolled out by the end of 2022 across the nation.
Why is ONDC important for eCommerce in India?
Digital solutions to tangible problems have become a norm. With the Open Network for Digital Commerce, a huge problem of navigability and limited choices will be overcome. A new mechanism that revolutionizes the whole eCommerce in India necessitates for businesses to adapt to this changing landscape.
This is why a business requires such an eCommerce App Development Company which helps businesses switch to the changing structure much more swiftly and easily. ONDC introduces local small and medium-scale businesses to the digital space. This means for better profits and quicker gains, enterprises must be quick to adapt to the changing network. It is time for your business to take the flight to success. And ONDC is this flight.
At Kamtech, we help businesses and entrepreneurs with 360 degree IT consultancy services. Whether you're looking for eCommerce App Development or MultiVendor eCommerce Web and App Development, we're here to support your needs. Bring Kamtech onboard for your IT requirements and let the experts take care of IT for you while you focus solely on your business.
If you enjoyed reading this article, then subscribe to our e-newsletter and follow us on social media to get periodic updates!