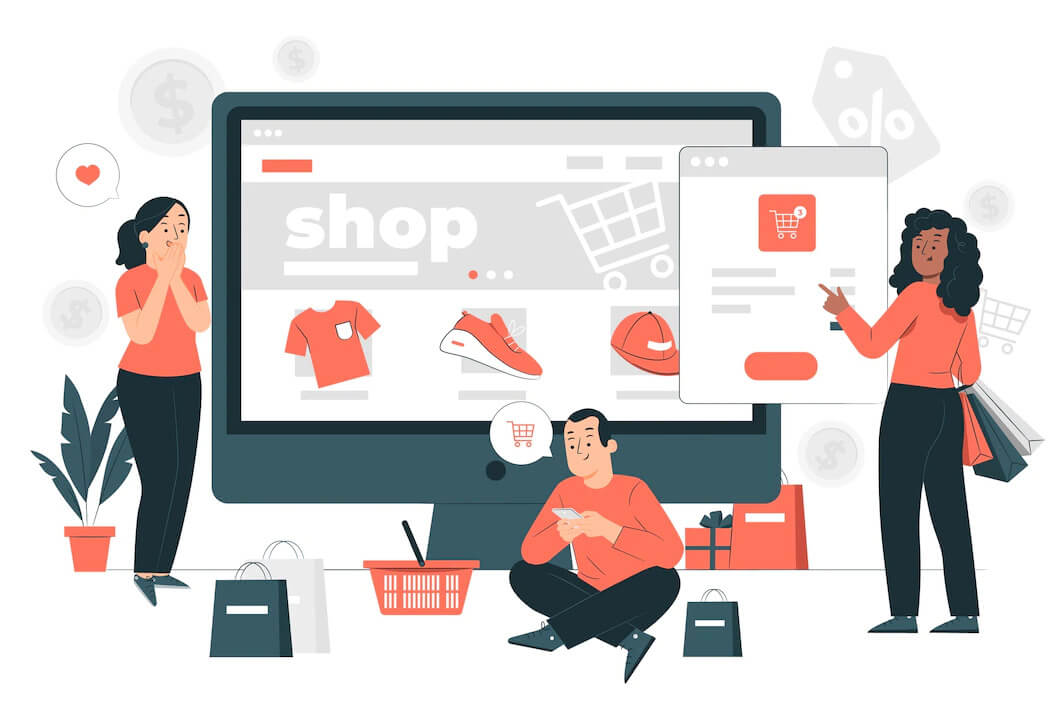 04-08-2022
Shopping online through mobile - this trend continues to rise at the peak. Earlier mobile friendly eCommerce website was a serious challenge. Although now the scenario has been changed and you can get a mobile-friendly website theme through. It can be a tricky task to build a Shopify store website mobile friendly. But you are lucky because Shopify is offering responsive themes and a great mobile user experience. Shopify has a fully responsive out-of-the-box number of themes.
In the fastest-growing eCommerce industry, people love Shopify. According to the report, Shopify has a huge market share of around 11% and is listed in the top 5 eCommerce technologies in the world. Shopify has one million in more than 175 countries. This platform has pre-built templates that are used to create a customised website mobile-friendly. Shopify helps to earn the most traffic and revenue. Getting a big mobile-optimized Shopify store is not for beginners. So you need to hire a concerned person from Kamtech to avail Shopify store development services.
Importance of Shopify in the Mobile Industry
We all know mobile applications are playing important role in aspects of everyday life. Especially online shoppers browse Shopify stores on a mobile device. Shopify store can increase sales, good consumer experience, and help to establish your brand and mission.
If you care about business success then surely ask developers to create Shopify store mobile friendly. It is a great opportunity for entrepreneurs to have a great impact on their customers. You can offer numerous features to your visitors to build the online reputation of your business. A business person can cater to better security, Fast loading speed, and quick customer service through Shopify.
Problems occur for poorly mobile-optimized Shopify Website
When we talk about a smooth mobile user experience, Shopify comes to mind for every business person. You should turn your site into a mobile-ready application. Some problems occur if you have an improper mobile-optimized Shopify website. Go through these problems before starting to Make a Shopify Store Website Mobile Friendly.
Poor Sale
If your Shopify website is hard to navigate, has slow loading, and has annoying obstacles then users may lose interest and drop the sales.
Down Brand Value
A poorly mobile-optimized Shopify website will damage the brand image. Nobody recommends while facing a struggle in using your website.
Low SEO Ranking
According to google update, the mobile-optimized platforms will get a higher ranking in the searches on a mobile device. If you are lack in this then surely you will lose visitors.
Determine your mobile-friendly Shopify website goal
Before opting to build a Shopify store website mobile friendly, you should determine the goal for your website. Obviously, Shopify is known especially for eCommerce. But there is a wide range of eCommerce websites. Have a look.
Personal Website
This is another type of online store. On the personal website, you will get a contribution or donation for a specific purpose.
E-commerce Website
When we want to sell or purchase the product then the platform will be an eCommerce website. Sometimes you can exchange money for services or goods also.
Local or International Stores
If you want to expand your brick-and-mortar store into the next reach then nationally or internationally you can access the products.
Steps to Make Shopify Store Website Mobile Friendly
Shopify helps merchants build and run online stores with the help of simple tools. Mobile-friendly Shopify stores attract potential customers to increase sales and generate revenue. Make sure you follow the trends and build a user experience to fulfill your audience's expectations. Here we have listed some steps to make a Shopify store website mobile friendly.
Make your website Responsive
A responsive website shows the content according to the size of the device screen. It makes the website SEO friendly and mobile-friendly. You can arrange the content for all your visitors on any device. Responsive design preferred format for mobile website.
Don't Use Flash
Flash can slow down your page speed. Your mobile users will feel left out if you build a website that has experience with flash animation. Flash is not good from an SEO point of view. You need to build a strong web design and use the trending technology.
Make information easier to find
Sometimes people browse information on their mobile devices. You need to make the mobile homepage easy to navigate for finding the information. Website content should be according to the visitors.
Add Viewport Meta Tag
This is one of the important steps to take care to build a Shopify store website mobile friendly. The viewport meta tag handles the website's appearance on a mobile device. This tag adjusts the width of your website pages. The viewport tag is written in the HTML language.
Turn Autocorrect for Forms
Sometimes autocorrect makes interaction inconvenient while filling out the form. Autocorrect turn on slow down the process of filling out a form. You need to make sure the autocorrect turns off.
The size of the button should be large
When you click on any small size button on a smartphone screen then it is not easy to do. Therefore, you need to make sure that use a large size button for easy navigation on the mobile device.
Include Large Font Size
If you use a tinny font then it is hard to understand the website information on a mobile device. You need to use the standard format of the font size. It also slows down the speed of the website.
Use Compressed Images and CSS
The large size of images and heavy CSS hamper the site speed. It is one of the other best steps to make a Shopify store website mobile friendly. Without affecting the quality of the site, you need to compress the images and CSS. Because the browser takes more time to load visual content.
Sum Up
Ask the concerned person to build a Shopify Store Website Mobile Friendly is just not a trendy thing. Although it is an essential step to generate revenue for your business. Most people use a mobile phone to get information about your Shopify store. We hope this information is beneficial for you and you start to implement it to improve the user experience of the mobile-friendly stores.