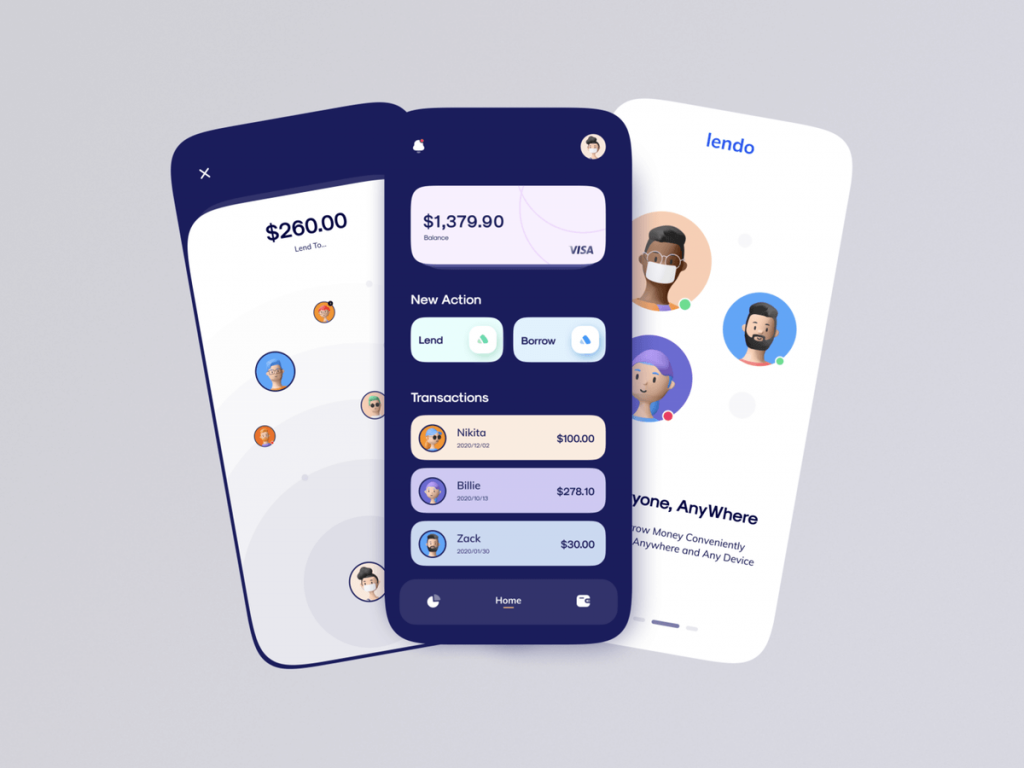 02-06-2022
Financial issues often seem to occur at the worst possible time when you're between paychecks. You might be tempted to use your credit card or take out a payday loan, but all of these alternatives come with hefty fees.
Individuals all across the world have been pampered and lured by online on-demand services.
However, because demand for on-demand services has surged, loan lending mobile app development could work wonders for the finance business.
Technology and mobile app development have altered many businesses, and banking and loan operations are no exception.
Why Should You Invest in Loan Lending App Development?
The growing banking and finance industry has turned to instant personal loan apps that allow borrowers to complete the loan application process fast and conveniently without having to visit the bank many times.
Loan lending apps are becoming increasingly popular in the United States. According to Statista, 48% of Americans may use a money lending app to estimate the amount of loan they would receive from a particular online lender.
From loan eligibility to loan approval to process documents to loan distribution, loan lending apps are a one-stop shop. Users benefit from these apps since they can bank and apply for loans online. Instant loan applications can be used for a range of loan types, such as personal loans, business loans, and home loans.
Apps make borrowing and depositing money simple, quick, and accessible at all times. Aside from that, money lending applications provide users with a host of other benefits:
Assistance with Security Accountability
It's simple to check your eligibility.
It is simple to use.
Several loan options
How to Develop a Loan Lending App like Klover?
Now, let's look at the steps that will help you create a successful loan lending mobile app that stands out from the crowd. Check it out!
1. Do some Research
You must first grasp the market before proceeding with your money or loan lending application. During the discovery stage, you examine popular similar apps and their features, noting where they shine and where they falter. Once you have a project, do a thorough research of the concept to find out how your app needs to work, your user journey, what features and third-party solutions you need.
2. Consider using the MVP Development Approach
A Minimum Viable Product (MVP) is a concept that originated in the startup world and is now used by organizations of all sizes to evaluate new products. The goal of MVP app development is to create a product with the bare minimum of functionality and then distribute it to early adopters in exchange for feedback.
3. Hire The Best Loan App Developers
Loan app developers must understand the project and assess the cost, which will have a significant impact on how you approach the team you hire in terms of skills and timeliness. If you really want to make an app like Klover, your app development team will need the following members:
UI/UX designers
Frontend developers
Backend developers
iOS app developers
Android app developers
Business analyst
Project manager
QA testers
4. Try out the app
You'll have a version that's practically ready to go after putting together all of the pieces of the app development process (concept, design, and technology). However, do a number of tests before releasing your new apps to the public to confirm that everything is working properly. You'll need to test on all versions of your app (native iOS, native Android, PWA, and so on), as well as different operating systems. Make sure you get the support of a few beta-testers as well—a fresh pair of eyes will spot elements or aspects that you may have overlooked or are biased about.
How much does it cost to make an app like Klover?
A variety of elements that determine the cost and timeline of developing a loan lending mobile app influence the development cost. Because your mobile app will need to serve a variety of loan lending operations and will have standard and complex features, the cost will be higher than a simple app with functionality. The cost of developing an app, on the other hand, is determined by factors such as:
Functionality and features
Complexity
Time duration
A hired mobile app development company's region
Platform
Other criteria and many more
If you like, you can get a comprehensive quote for loan lending mobile app development by contacting us.
Conclusion
Loan lending apps are popular right now, which comes as no surprise. You must not wait if you want to continue developing loan lending apps, as you've seen the primary procedures and charges involved in making bespoke loan lending apps. The method is not straightforward, and you will face various challenges as you go. You, on the other hand, do not need to be concerned! All you have to do now is assemble the best crew to work on your loan lending app.
Please contact us if you are looking for such a capable staff. We, at IT Kamtech, are one of the world's leading Loan Lending App Creation businesses, and we may be able to assist you with the development and implementation of Loan Lending Apps for your business, which can help you enhance earnings.