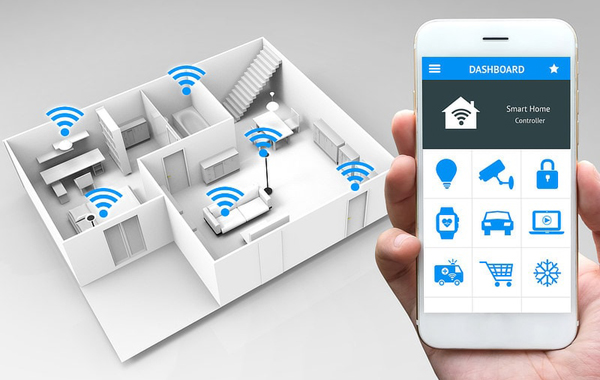 03-06-2022
Ecobee, which was founded in 2007, has grown to become one of Canada's leading Home Automation service providers. The company began with smart thermostats and has now expanded its products to include home security systems.
The company's eponymous software, which is deeply embedded in the realm of IoT, has recently become a hot topic for its outstanding functions and great UI. The app's utilitarian sense belies its simple yet appealing design, which make it even more intriguing. Not to mention, it is the app's unique features that have allowed the company to grow its user base.
This made it easier for the company to introduce more home automation solutions in the future. Add in the fact that the smart home solutions industry is expected to reach an all-time high of 99.41 billion dollars by the end of the year. It all adds up to a dazzling future for the company and its software!
As a result, if you're in the home automation business, creating an app like Ecobee has the potential to boost your bottom line dramatically.
How to Make an App Like Ecobee
Ecobee's elaborate and feature-rich design necessitates a sophisticated methodology. As a result, when we cover the development procedures for its clone app, we'll do so from an Agile standpoint.
Research the Home Automation Target Market
You can't start building an app and its complex ecosystem without first conducting extensive market research. When looking for home automation solutions, you should know who your target audience is and what sort of solutions they want. To begin, if you're in the thermostat business and want to expand like Ecobee, you'll need to determine which mobile platforms your target market uses. You should also research the issues that users have with current home automation systems and apps.
Ecobee will continue to be your principal subject for this purpose. However, there are additional specialist apps for learning that should assist you obtain a better perspective. Google Nest Smart Thermostat, Honeywell Home, Emerson Sensi, and The Simple Thermostat are just a few of them.
Make a list of the most important features of your smart home automation app
You'll be better equipped to list the primary features of your app if you've done thorough market research for it. The majority of today's greatest home automation apps have the following critical features:
User Registration
Find Devices
Add Devices
UI Dashboard
Device Control
Alexa Integration
Eco Mode
Weather Check
Set Schedule
Vacation Mode
Security Ecosystem
Notifications and Reminders
Geofencing
You can offer the most value to your users' overall experience when using your smart home devices by implementing these custom features. However, it's obvious that putting all of these aspects together can take a long time, time that's vital for you to stand out from the crowd. This is why, when you're just getting started, creating an MVP version of your app is a good idea.
Hire a company that specializes in home automation app development
This list of characteristics, combined with the market knowledge you gathered in the first stage, will help you pick which skills and resources to recruit to get your project started. For an app of this magnitude, you'll require a team of-
Project Manager
Business Analyst
Mobile App Developer
IoT Developer
UI/UX Experts
Quality Assurance Engineers
You may quickly begin the development of your home automation software with a staff with such specific skill sets. When hiring developers, search for a technology stack similar to the one utilized by the Ecobee app.
Create a Minimum Viable Product (MVP) for your home automation mobile app
Now that you have a list of all the features and functionalities you want your app to have and a team to build them, determining which of the major features are essential for a deployable version of your app will be much easier. The MVP, or Minimum Viable Product, is the name given to the app created in this way.
The concept of creating a prototype like this isn't new. In fact, establishing an MVP ahead of time will help you realize what extra features would be more valuable to your consumers, in addition to saving time when launching the first version of your software. You'll also be able to see what problems the existing features cause your users, and you'll be able to address them in the next version of your app. This way, you'll have a whole product that's significantly more beneficial to users than your original vision.
Publish and Promote Your App
You're ready to publish your app on the dedicated app markets now that your MVP is complete. To use the Play Store, you'll need to create a developer account and pay a one-time registration charge. After you've registered, you can upload your app's APK file to the platform and provide optimized meta data for better discovery. Once you've given us all of the facts, we'll check to see if your software is free of viruses and buggy code, and then publish it as soon as possible.
The App Store follows the same approach as Google's Play Store, however the cost of registration (here membership) and the time it takes to review an app are both higher. You should begin marketing your app as soon as it is out, and even before that, using specialized landing sites, video advertisements, and other methods. To get a head start in building a user base.
Increase the value of your app while still maintaining and scaling it
You're ready to move on to the second phase of development once you've done everything you can to get your app released as soon as possible and then advertise it. Instead, start the development process for the next set of essential app enhancements. You should also get feedback from people who have already downloaded the initial edition of your app. This manner, you may tackle all of their initial issues in the first iteration and avoid any potential snowball effects afterwards. You may also ask your users what other features they think will improve their app experience, and then incorporate those into future Agile versions.
Conclusion
As satisfying as it is to have a completely functional and profitable software like Ecobee, the development process may be daunting. However, if you can locate a dependable team of mobile and IoT app developers, it could be the easiest thing you've ever done.
IT Kamtech has a lot of experience in both of these areas. Our team of highly qualified engineers and subject matter experts has worked on some of the most cutting-edge IoT solutions for companies all around the world. Hundreds of intriguing apps have been developed by our team of mobile app developers.
We also understand all of the security problems that come with IoT ecosystems because we have a thorough understanding and expertise with them. This is why we believe we can be an excellent partner for the creation of your Ecobee clone software.