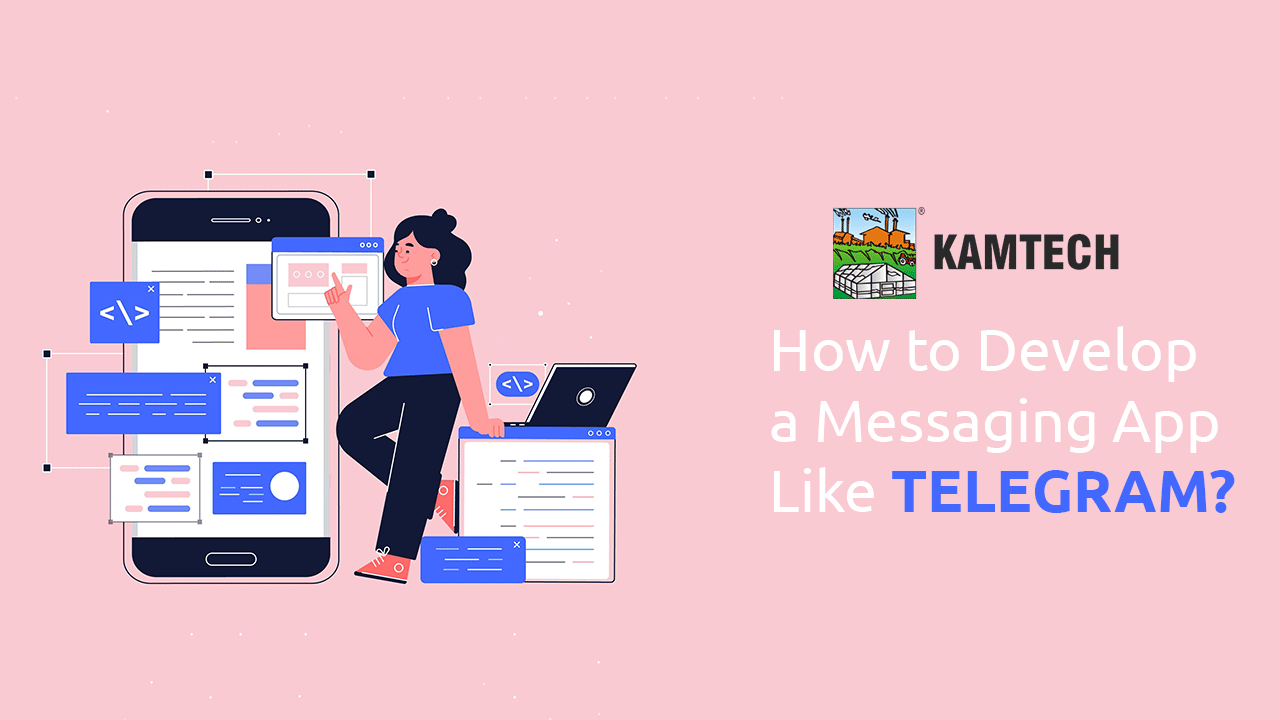 03-11-2022
Messaging apps have gained immense popularity among the youth since the advent of the twenty-first century. Especially after 2014, when Facebook acquired WhatsApp, you must have witnessed the increased number of messaging apps. The old players also expanded their business seeing the opportunity.
This acquisition raised the demand for telegram. And without any promotion, the download rate increased by 1.8 million users. In April 2019, the telegram app had 400 million monthly users with sixth position among messaging apps globally. By 2020, the number of telegram-like app users crossed 500 million and reached one billion.
People who were familiar with the working of messaging apps didn't face much trouble in transferring their data while switching to telegram. Its main feature is that it provides end-to-end encryption of messages.
From 2014 to now, the messaging app industry not only perceives telegram as a top choice in the market but also tries to find ways to create a messaging app like telegram.
It offers you more features than its competitors, which makes it a top notch-choice for the audience. In this article we feature what telegram is, its features, and what it takes to develop a messaging app like telegram. Read on to know how to make a app like telegram.
What is Telegram?
Well, you must know telegram as a chatting or social messaging app, but it is much more than this. It is a cloud-based messaging app that focuses on texts, videos, and VIOP service. You can use multiple telegram accounts, create groups, and add animated stickers to videos and images.
Must-have features for telegram-like application
Over 1.3 billion people use instant messaging (IM) apps every month. You might wonder what is so special about the telegram app. Being a messaging app telegram provides you with many features and functionalities. Some of the features to develop a messaging app like telegram are mentioned herewith:
End-to-end encryption: Telegram prefers the privacy of its users. This is the main principle of telegram. It protects the user's personal information and conversation. You need to consider this factor if you want to create a messaging app like telegram.
Size and type of file: You can send all types of files such as images, videos, audio, and other kinds of media on telegram. And you can transfer a file of 1.5 GB in telegram. You can share your favorite music, family pictures, videos, etc. with your family and friends.
Cloud storage: A cloud-storage app allows its users to download data storage and accessibility on Windows, Mac OSX, Linux, iOS, and Android. You can access your data from anywhere once it is saved to the cloud. To develop a messaging app like telegram you must consider this. Telegram also provides you the ability to track the time spent on the app.
Creation of group: You can make two types of groups on telegram. First is a normal group, in which you can add two hundred members. In this, you add people from your contact list.
The second one is a supergroup. It very well supports the meaning of its name. It is a private group. As its name shows, you can add a large number of people, over one lakh to this group.
Multi-platform availability: This is one of the best features of telegram. You don't have to depend on a single device to use it. You can access it on Android, iOS, and the Web.
Multiple accounts: You can log in to multiple accounts on your device and use them simultaneously.
Chatbots: The bot allows the users to perform several tasks starting from reporting recent news to enabling in-app purchases. Telegram is counted as one of the first apps that enabled chatbots within the app.
Moderation: Telegram follows a different approach to control spam and puts the responsibility on the user and not on the company. If a user finds a message inappropriate, he can report it to the telegram server. And while investigating if the same report finds a reasonable number of complaints about the same account or group, then telegram takes action.
All these factors make telegram a go-to messaging app. To ensure the availability of these telegram-like features you can take the help of a mobile app development company.

How to make a app like Telegram
It is always important to prepare a draft plan before starting any work. To create a messaging app like telegram you must follow the steps mentioned hereunder:
Research: It is essential to research thoroughly before starting any project, especially something as important as a messaging app. If you have an idea of the taste and needs of the audience you will end up designing an app that people will want to use. Audiences will not use a messaging app that doesn't match their preferences. Make sure you consider the audience's demand as your priority and develop an app accordingly.
Create a concept: After researching the needs of the target audience, create a concept to work upon. It is important to consider your concept covers all features and functionalities you want to be included in your app. You can also think about what extra value you can add to your app as compared to the existing apps. How your app will be different from others while incorporating the preferred features. These questions will help you frame a concept for your app.
Development of the app: While developing an app, it is essential to consider UI and UX design. The user interface includes visual aesthetics and is mostly about creating a consistent look. The best UI designs are generally unnoticeable because they work so well. UX design provides consistency between UI and backend. You must add a crucial set of features to the Minimum Viable Product (MVP). By releasing MVP, you can take user feedback and make improvements. You can take help from a mobile app development company in case of any doubt.
Release the app: At the time of releasing your app, you have two popular stores to choose from: Google Play Store and App Store. Both are unique and better in their way. But many experts recommend using Google Play Store in the beginning because of its popularity. There are over three million apps available on Google Play Store. Around 87% of mobile users have Android, so it is also profitable to use as compared to the App Store.
User experience module
What truly parts telegram from its competitor apps is the user experience that it offeres to the users. From the moment you install the app, the entire procedure is so seamless and efficient. This makes the app an apt example of a focused app. Telegram offers its users text combination, color combination, and icons that make the user experience worthwhile. Telegram's business model supports a set of expensive features and minimal design standards. It gives the users a safe platform to interact and share data in real time without any infringement.
Cost to develop a messaging app like telegram
The factors that affect the cost of any messaging app are also the same in the case of telegram. But the cost of developing a telegram-like app is much more than any other messaging app because of its backend technologies. These technologies secure your data.
Millions of users are active at the same time doing several activities such as texting, sending images and videos, making calls and in-app payments, shopping, etc. This increases the cost in designing, developing and hosting an app like a telegram. And if you want a bespoke chatbot app that needs extensive coding and API integration work then you have to pay even higher.

It takes a lot to develop a messaging app like Telegram. You need to be patient and put a lot of effort into building a messaging app of your choice. While developing a telegram-like app, the developers should make sure that the database is end-to-end encrypted. Kamtech is a mobile app development company and we have worked with various clients in India, UK, Africa & Germany on mobile app development. You can reach out to us to create an app that is feature-rich, secure and optimised.