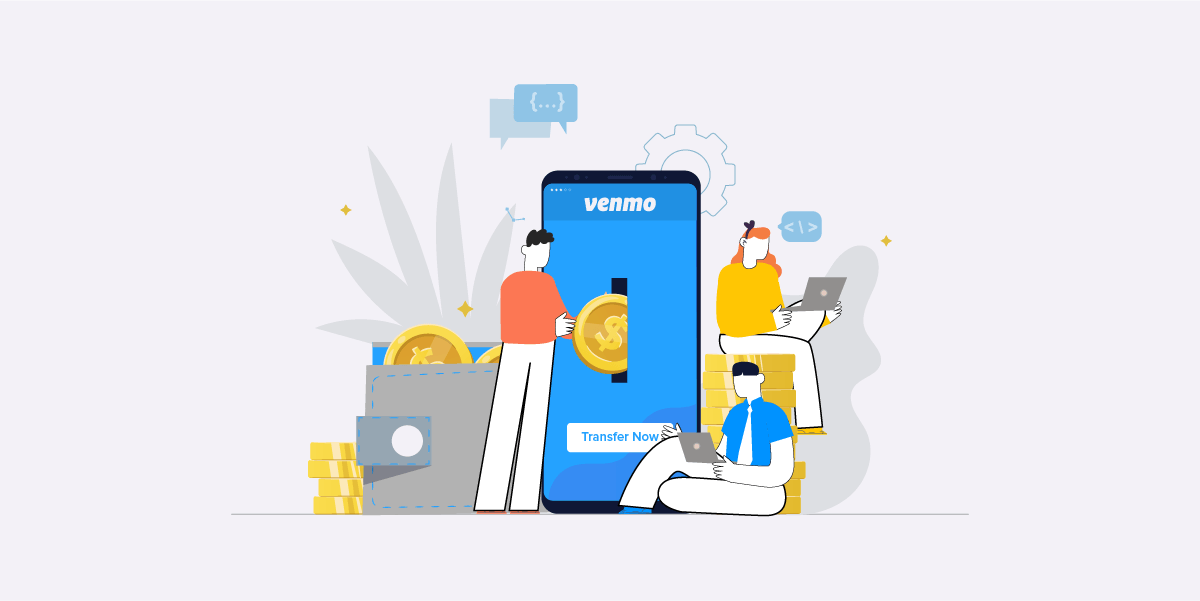 14-06-2022
In the last several years, the peer-to-peer (P2P) payment business has exploded in popularity. The global P2P payment market was estimated to be worth $1,889.16 billion in 2020. Between 2021 and 2030, it is expected to reach $9,097.06 billion, with a CAGR of 17.3 percent.
The rise of smartphones can be associated with the tremendous increase in acceptability of digital banking systems such as P2P payment, eWallets, and so on. Millennials, who use their smartphones for everything, are the driving force behind this business.
People can utilize this to transfer money from their mobile phones instead of spending valuable time at a bank.
Everything, including our bank accounts, has been streamlined and connected to the internet in this age of ultra-ease. Digital payment vendors protect every transaction with cutting-edge security methods.
Google Wallet, Square Cash, and Venmo are some of the most popular P2P apps. In today's blog, we'll look at how you can create your own P2P mobile app.
What is a peer-to-peer payment, and how does it work?
The transfer of money from one person's bank account to another's over the internet is known as peer-to-peer (P2P) payment. This service is usually supplied by a third-party app that requires you to enter your bank account information into its database. These apps use a variety of cryptographic and other technologies to ensure that all of your sensitive information is safely saved.
You can send money to another person's bank account or request money from them once you've added your bank account to these applications.
People nowadays choose P2P payment over traditional methods for a variety of reasons:
Payments between people are nearly instantaneous. The major drawback of old methods is that they require time to send data, which can range from a few hours to days. P2P payment, on the other hand, eliminates this lag. People who are in desperate need of money can get it with a few swipes and taps.
P2P payments are a lot more convenient. Unlike typical bank transfers, you will not be compelled to spend hours in a bank dealing with endless lineups and a plethora of paperwork. Normally, bank work takes many hours out of a person's day, but with P2P, money transfers take only a few minutes.
People are wary of bank accounts, which is understandable. So, if consumers trust these apps enough to provide them access to their bank account information, they have enough faith in their security. Every payment made through these applications is as safe as it can be, thanks to the strides P2P payment apps have made and the myriad laws they must follow. That isn't to say that data breaches aren't still happening, but things have significantly improved since the industry's low point a few years ago.
How to develop a P2P payment app like Venmo?
The data plainly suggest that the peer-to-peer payment industry is currently one of the most profitable. It is, however, far from saturated. The digital payment sector as a whole is expected to grow dramatically in the next few years, and if you're interested in creating your own P2P payment network, we've put together a path for you to follow.
Developing a mobile app is a demanding task with numerous dangers. Small and emerging businesses confront numerous hurdles as they try to get their operations off the ground. As a result, partnering with a mobile app developer with experience building digital payment networks, such as a P2P payment app, is a wise decision.
Research and Plan
Getting the lay of the land is the first step in any mobile app development project. You can't go into the market blindly and expect to figure things out as you go. Mobile app development is a risky industry, and you will lose money if you aren't careful and don't have a game plan.
So, first and foremost, research the market. Examine your rivals to see what they're doing properly. Users can be interviewed one-on-one to find out what they want from an app like this. The idea is to figure out why people would come to you instead of Google Wallet or Venmo. The solution lies in the services they don't give or supply insufficiently. Their flaws will be your selling point and will help you establish your app's hook.
Make a Minimum Viable Product(MVP)
It's time to design an MVP for your project now that you've hired a developer. If you're attempting to create an app similar to Venmo, you'll need to include the app's essential features in your MVP.
Improve and Test
You can use your MVP in a variety of ways once you've created it. You may make it available to the general public. You'll know you're on the correct track if the app is good enough and the reviews are positive. However, if the reviews aren't favorable, you can go back to the drawing board and make changes.
The best part of creating an MVP is that it is much less expensive than creating a full-fledged app. As a result, if your app's concepts and functionalities have problems, you won't spend a lot of money on it. Instead, you put it to the test by making it available to consumers and then reworking it. This ensures that your app is delivered in the best possible condition.
The MVP can also be utilized to attract further investors. Before writing you the check, some investors want to see a working product and a plan. When your app becomes popular, it attracts the attention of others. Your MVP is critical in both circumstances.
Deploy, Maintain, and Update
It's time to release your app after extensively testing it and ironing out all of the UI/UX minor issues. Depending on your company model, you can make it available on one or more smartphone app stores. Because the Google Play Store and the Apple Appstore are two of the most popular app stores for smartphones, make sure your P2P payment app is available on both.
Maintenance follows deployment. You must release patches and bug fixes as quickly as possible. Furthermore, consumers are not hesitant to leave negative comments about your programmes in the comments part of your app store page. As a result, make certain you respond to those comments and address all technical difficulties.
Conclusion
Individuals and businesses all over the world can use P2P money transfer apps to make real-time payments via the internet. The simplicity with which people may now make large payments is almost unbelievable, and given how enthusiastically people have embraced it, this industry is sure to expand even further. This industry has plenty of space to grow and innovate, and new firms are emerging with daring and inventive ideas to propel it forward.
IT Kamtech is the appropriate app development partner for you if you're a company trying to change the digital payment industry with your app idea. IT Kamtech has years of experience and knows how to develop a technologically sound mobile app that is simple to use and delivers value to clients. Our talented mobile app developers and digital payment experts assist our clients in refining their concepts and providing critical feedback to help them better their products. Our clients are always at the core of our client-centric and Agile development methodology, and we make sure to keep them informed.
Contact us immediately if you're looking for a P2P mobile app developer.