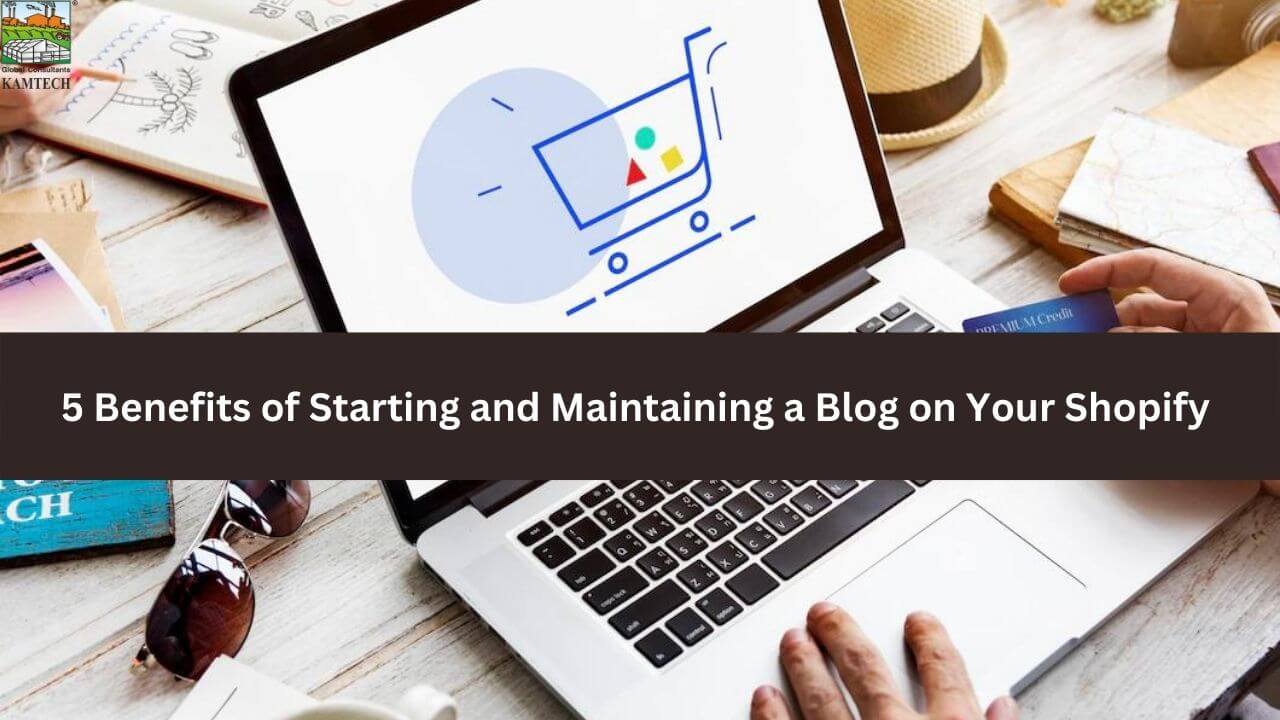 14-10-2022
In the twenty-first century, and especially after the pandemic eCommerce has risen literally to the top of the world and stood successful in driving more traffic which then converted into more sales. Blogging has made it way easier. According to the market data, every day 7.5 million blogs are published.
If you own a Shopify website and do not have a blog for your store yet, then you must start one. A blog is a collection of articles that are published on some website using the internet or simply it's a 'web log'. This usually revolves around a topic, and in this case, it would focus on blogging on a Shopify store.
Sharing some Shopify blog benefits to explain the importance of a blog for your shopify store:
Product Promotion and awareness
It is mostly seen that the product description provided by the company is not enough to describe the potential of your company and the products. This is why blogs become a source of promotion for your brand. It makes the consumer aware of your brand's features, quality, offerings and other aspects. A blog gives you a chance to directly interact with your target audience to elaborate on everything you want them to know.
Today customers have become smarter and before buying anything they research online about the product. Hence, a blog is the best suitable place where you can connect with your audience directly. Having a wealth of information, the customer will feel more confident and comfortable buying the product.
Improve Shopify SEO ranking
This is one of the most important Shopify blog benefits. Search Engine Optimization, popularly known as SEO is very crucial for any internet website. It determines your ranking on the popular search engines and ensures your store stays on top of the search results.
Better SEO ranking helps your blog appear in most search results, leading to an increase in your sales. In search engines like Google, you can increase your SEO ranking by posting multiple blogs. Just make sure to optimize your content with relevant keywords and backlinks.
Boost Sales: Another Shopify blog benefit is that it rapidly increases your sales and customer base. Reading a blog can satisfy a customer with all the necessary information available there. This not only increases your sales but alongside increases your customer count by referrals. You can ensure this by including a call to action towards the end where you can ask your customer to check out your product once.
Build Engagement: A well-written blog catches the attention of the customer and convinces him about your expertise. Engagement of the audience builds a strong community around your Shopify store. A blog can establish better communication between you and your customers that later on results in a strong seller-consumer bond. You can also ask for their feedback in the comment section and they can freely ask you their doubts or questions directly.
Bring a unique personality: You convey your brand's unique personality by regularly posting blogs on your website. It adds more value to your brand. You can write in a unique style that reflects the rareness of your brand and include niche topics that your customers will find engaging. Anything new and creative you can try out in an appealing voice. This adds long-term customers to your brand who after getting complete information can rely on your brand.
You can build the trust of the audience with the medium of your blog. Your blog shows the customers how informed and reliable you are. Another important Shopify store benefit is that if somehow your Shopify website drastically changed, your blog stays the same as it was before. And there's also no need to be locked in one theme or topic for the rest, you can always switch.
Length of the Blog
Then comes the most often asked question, 'how long should a good blog post be?'
There are not many restrictions on the length of the blog, it can be as short or as long as you want it to be. You don't need to write a thousand words every time, it can be minimized and maximized according to the content needs.
We can categorize the blog post into two main types to make them convenient for you:
A long detailed post, which is termed an article offers an elaborate description of the topic with the use of images to keep the viewers engaged. These blog posts contain tons of information. If you want to share a lot about your business then you should go with this format of blog writing.
Short blogs contain less information with content like some tips or announcements that you think are important and your customers should know about. A short blog usually consists of 500 words, you can also include video clips to make it more interesting.
How to Activate Shopify blog
Activating a Shopify blog for your website is very easy. You have to go to the admin area of your website and click on "online store", and then on the sub-menu, you'll find an option of "blog post", click on that. After that, at the top, there's an option to manage blogs, after clicking that you'll see the "add blog" option. You can activate your blog, give it a name, and add it to your site's navigation menu.
Or simply you can ask the Shopify store development company to activate it for you.
Activate your Shopify blog today, if you want to stay on top of your game in this ever growing eCommerce business.